Fire Damage Repairs & Restoration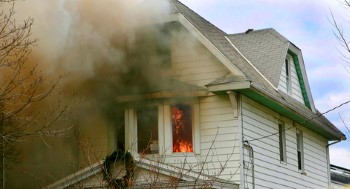 When your home is caught in a fire, the aftermath can be devastating. Depending on the scale of the fire, the damages can seem overwhelming, and the stress of the ordeal can send you into a state of despair.
If your property becomes the victim of a fire, contact Constructor's Inc. We offer professional fire restoration services. Our skilled technicians will take care of your fire damage repairs, restoring your home to its pre-disaster state.
As licensed St. Louis Fire Damage Repairs Contractors and Certified Fire Insurance Claims Specialists, you can rest assured that Constructor's Inc. can take care of the fire and smoke repairs your home needs to overcome the damaging effects of a fire.
Going through a home disaster is hard enough. Let our expert fire restoration technicians take away some of the pain and frustration you are experiencing by providing you with the quality fire damage repair and restoration services you need to get back on your feet.
Our St. Louis Fire Damage Repairs Includes These Detailed Services
House Fire Repair
Fire Restoration
Smoke Damage Repairs
Fire Damage Remodeling
Fire Cleanup and Restoration
Fire and Smoke Damage Repair
Fire Insurance Restoration
Fire Damage Insurance Restoration
Fire Damage Renovations
We Provide Fire Damage Repairs in the Following Areas:
Missouri - St Louis, MO | Chesterfield, MO | Ofallon, MO | St. Charles, MO | Clayton, MO | Webster Groves, MO | Ladue, MO
Illinois - Ofallon, IL | Fairview Heights, IL | Edwardsville, IL
Why St. Louis Homeowners Should Hire Us For Their Fire Damage Repairs
Constructor's Inc. is a Fire Damage Repairs company that St. Louis homeowners have to come to rely on for quality insurance and storm restoration services. With our experienced storm restoration contractors you can rest easy knowing your Missouri and Illinois area Fire Damage Repairs project is in good hands. All of our professionals are trained and skilled in the storm damage repair and insurance restoration field.
Since day one our goal has been to provide local homeowners with Fire Damage Repairs services that are second to none. We will work with you every step along to way to ensure that you are truly happy with the finished project. Call to speak with one of our Fire Damage Repairs contractors today and see why Constructor's Inc. has become a trusted St. Louis residential remodeling company!
Recent Articles About St. Louis Fire Damage Repairs
A fire can have a devastating effect on a family, causing several losses. Though even property loss can be pretty frustrating and disheartening, you should know that most fire damaged houses can be restored to their old self. Your best bet to tackle damage caused by fire and water would be to hire the services [...]

There are many misconceptions that homeowners have about St. Louis replacement windows that can keep them from choosing to replace their windows. The four misconceptions below touch on a few (but major) issues that are commonly brought up by people hesitant to replace their windows. By dispelling these misconceptions about St. Louis replacement windows, homeowners will feel [...]
If you are looking for a St. Louis Missouri or Illinois Fire Damage Repairs Contractor please call 314.238.4429 in Missouri, call 618.406.3393 in Illinois, or complete our online request form.